Sunday, 30 September, the central streets of Chisinau turned into a real marathon course for thousands of enthusiasts, who challenged themselves and took part in the fourth Chisinau International Marathon.
The sporting event took off at 8.00. The mass warmup was followed by a greeting from the director of the Sporter public sports organization, Dmitri Voloshin. After that, participants lined up at the starting line. A total of 18,000 gathered in front of the starting arch.
The first to start were the wheelchair-using athletes, who had the opportunity to compete in the "Marathon for All" category. This special category featured the distances of 10 km, 21 km and 42 km. It's the first time in the history of the Chisinau Marathon that a competition for wheelchair-using athletes is conducted.

At 9.00 was given the general start for competitive races of the Chisinau International Marathon 2018. The participants were supposed to cross the following distances: marathon (42 km 195 m), half marathon (21 km 0975 m), 10 km and 5 km, as well as the entertainment race Fun Run by Iute Credit on 1.5 km.
All the Chisinau International Marathon participants were awaited by the well-deserved medals at the finish line. Winners received gifts offered by partners and prize money. The total prize fund for the Chisinau Marathon made 100,000 MDL. The award ceremony started at 16.00.
Winners of the 5 km distance were:
Male winners

1. Ivanchenko Vladislav
2. Pavlenco Nicolae
3. Volosciuc Alexandr
Female winners

1. Botnari Mihaela
2. Tcaciova Iuliana
3. Ruliac Inna
The fastest 10 km runners were:
Males

1. Chiriac Piotr
2. Tsymbalist Ghenadie
3. Crivoi Andrei
Females

1. Ciocan Daniela
2. Budiuc Cristina
3. Nastas Diana
The best results for the 21 km race were shown by:
Males

1. Raileanu Maxim
2. Croitoru Liviu
3. Obukhovsky Alexey
Females

1. Carmanenco Katerina
2. Zbirnea Natalia
3. Sacara Zinaida
The fastest to conquer the marathon distance of 42 km were:
Males

1. Serem Benjamin Kiprop
2. Gorbushko Nicolay
3. Popov Sergey
Females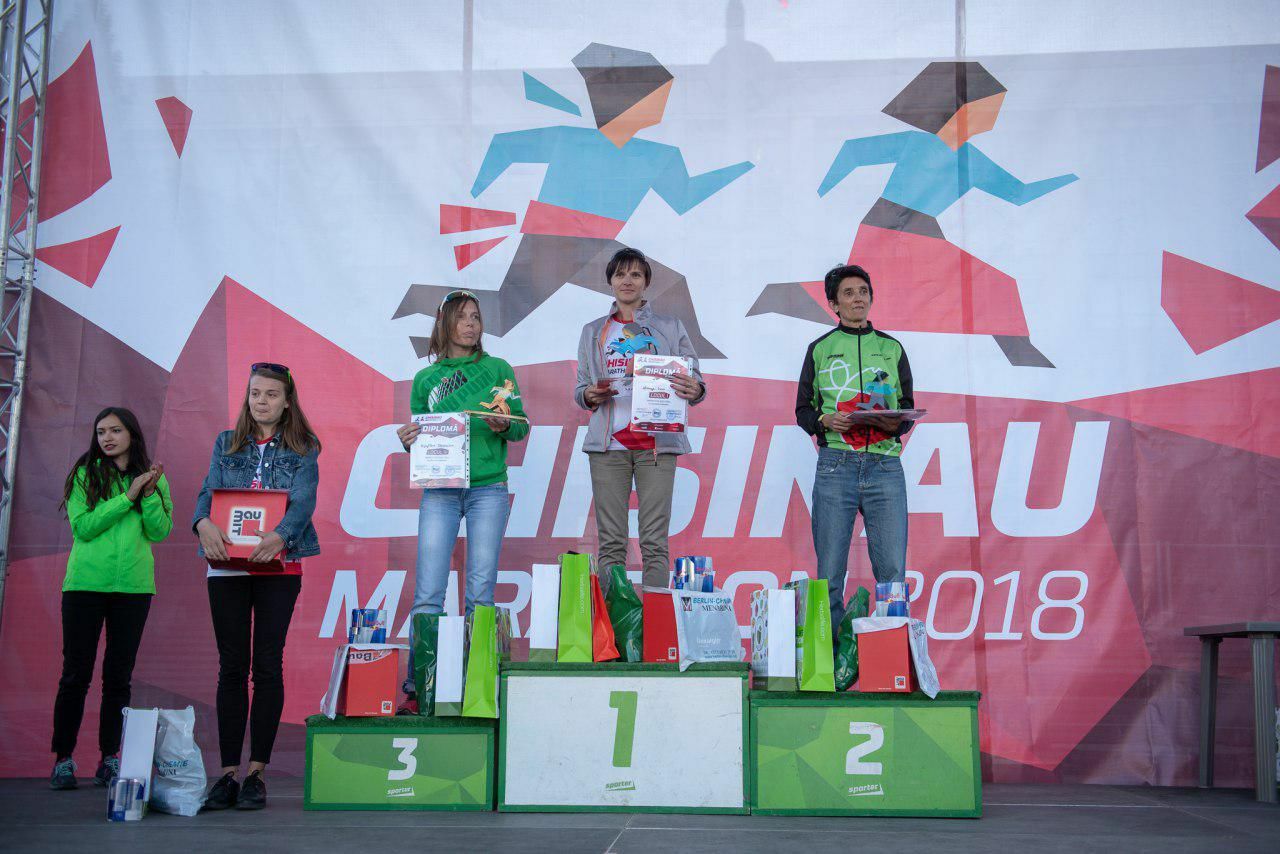 1. Masnyk Irina
2. Mahamud Isidro Pilar
3. Kirillova Olexandra
Special greetings for all participants in the "Marathon for All" category. These are people with an extraordinary moral courage and endurance. The fastest among wheelchair-using sportsmen were:
10 km male runners:
1. Martsinkevich Alexandr
2. Costin Dumitru
The "Marathon for All" winner in the 10 km Handbike category became Petrosanu Catalin.
The only female in the "Marathon for All" 10 km category was Frankiv Ganna.
The fastest to conquer the distance of 21 km in the "Marathon for All" category were:
Males

1. Bardij Anatoliy
2. Radcovski Artur
3. Levene Justin
Females
The winner of the 21 km race was Dmitriuc Nadejda.
The winners of the "Marathon for All" 42 km race were:
Males

1. Stefirta Ilie
2. Shuruta Sergey
Females
The distance of 42 km was conquered by the only participant Sobchinskaya Nataliya.
The organizers of the Chisinau International Marathon 2018 are the public sports organization Sporter and the most popular free ad board 999.md.
The organizers express deep gratitude to the partners for the fourth Chisinau International Marathon:

General partner Kaufland company
Title partner for Fun Run, Iute credit company
Title partner for the 21 km race, Technosoft company
Title partner for the 10 km race, Naturalis company
Title partner for the 5 km race, Herbalife company
Official partner of the "Marathon for All" category, The Swiss Agency for Development and Cooperation
Official partners:
OM drinking water manufacturer
Skoda company
Metro Cash & Carry Moldova supermarkets network
Oriflame company
Pharmaceutical brand Dexalgin
Linella supermarkets network
Hippocrates pharmacy network
Family Market supermarkets network
Baumit company
Red Bull energy drink manufacturer
Moldcell mobile operator
Limon sports equipment store
Sport Expo partners, the companies: Multisport, Xstyle, Sportlandia, 22 store, 21k sport, Garmin, Top Shop, Thai Power, Motoland.
Food Zone partners:

Radler beer manufacturer
Manuel Caffe coffee shop
BarBar Bar
Mezellini brand
Relax Zone partner, Kineto Terra company
Media partners:

General media partnerspoint.md and știri.md
TV channels TVR Moldova and TVC 21
Radio stations Novoe Radio and Radio Studentus
Portals: afisha.md, locals, diez, Agora, Zugo, Noi.md, Unimedia
Live broadcaster of the event - Directmedia