These Lightweight Running Shoes Are the Next Best Thing to Running on Air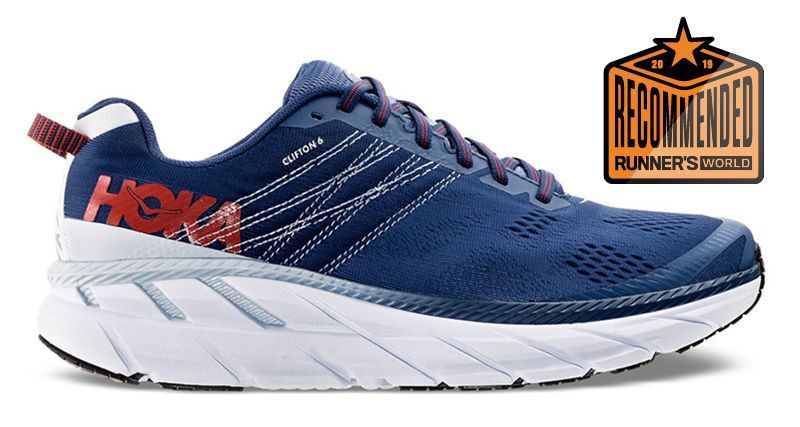 When you don't want to feel weighed down, you want these shoes on your feet.

Light and with just enough cushioning to disperse shock, lightweight running shoes—which are useful as both everyday trainers and racing shoes—have come a long way since the minimalism boom nearly a decade ago. By 2011, companies launched new footwear—Brooks PureProject and New Balance's MR890, for instance—to encourage natural gait without extra weight. The movement hit a few snags, but findings show there is world enough for both "minimalist" and "maximalist" footwear—as long as you start running at a judicious pace.
Down to a Science
The appeal of lightweight shoes is based on speedier running performance and biomechanical science. Brands have refined the lightweight running shoe by analyzing stride and gait, using impact measuring devices, and constructing sneakers to encourage natural form instead of correcting it.
Flexible knit uppers and thinner, bouncier midsoles, zero-drop platforms, and wider toe boxes are all innovations that have created the present-day lightweight trainer.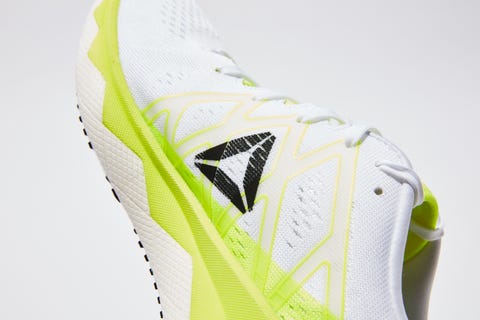 From Minimalistic to Moderately Soft
Not all lightweight sneakers simulate barefoot running. Some shoes are moderately cushioned, making them ideal for runners who want to make the transition to minimalism, or for runners who want to go faster without sacrificing cushioning.
These road and trail shoes floated to the top of our lab data charts for weight as the lightest shoes in the bunch. Our wear testers raved about how effortless the miles felt in these picks, and they loved the sensation of not being weighed down. We're pretty sure you'll love that, too.

How We Tested
All of the shoes included in this list were tested by our pool of over 300 wear testers and submitted to the Runner's World Shoe Lab for measuring energy return, flexibility, and other components that fill us in on the shoe's profile. Below are our recommendations and a snippet of the full review.
—BEST FOR UPTEMPOS—
Reebok Floatride Run Fast
Weight: 6.9 oz (M), 5.6 oz (W)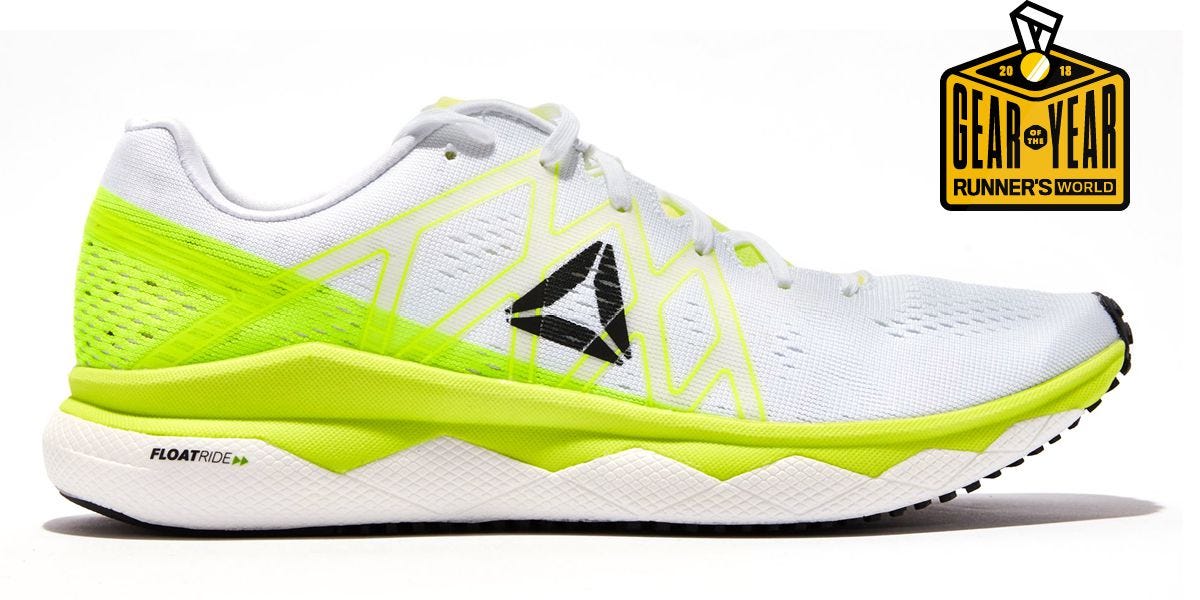 A cushioned platform that won't bog you down
Midsole contains Pebax—that speedy ingredient found in the Vaporfly
Excellent traction on outsole causes some scuffing
Our testers felt fleet on their feet and gushed how the Floatride made them speedier. Weighing only 6.9 ounces for men and 5.6 ounces for women, the sneaker has an innovative Pebax-based midsole foam, which is lighter than the standard EVA. This translates to impressive rebound and high energy return during your run. This shoe is a 2018 Runner's World Gear of the Year award winner.


—BEST FOR RACING—
Skechers GOrun Razor 3 Hyper
Weight: 6.6 oz (M), 5.3 oz (W)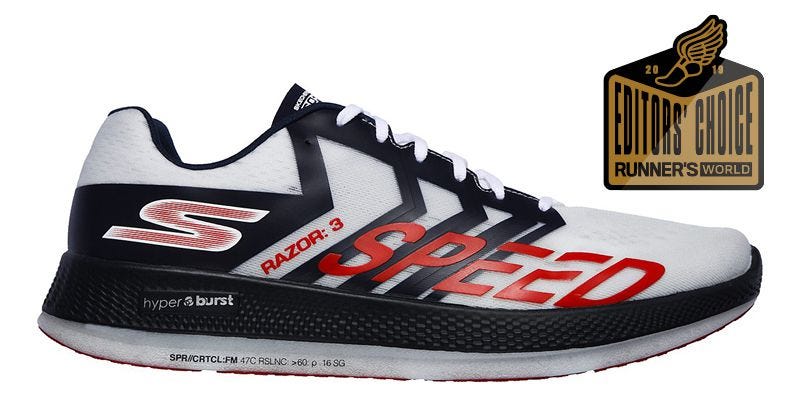 Lightweight and breathable construction
Hyper Burst midsole is highly responsive for speedwork
In testing, we found the Razor 3 has a decidedly racy feel. It likes to be pushed hard, to go fast. The foam underfoot is relatively firm, but at the same time feels like it takes the hard edge off the pavement when you're really cranking. It helps that the rest of the shoe has a lightweight construction—the upper is thin and breathable, while a web of rubber underfoot gives you just enough contact with the ground for decent traction in good conditions.
—BEST BARGAIN BUY—
Reebok Forever Floatride Energy

Weight: 9.3 oz (M), 7.7 oz (W)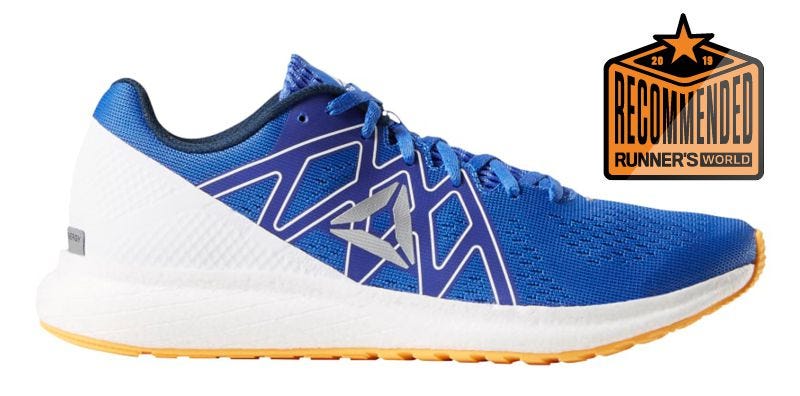 Lab tests showed an incredibly responsive midsole
Lightweight and springy ride
Testers weren't fans of the lacing system; the tongue tended to move midrun
No, it's not on par with the 2018 Gear of the Year-winning, $140 Floatride Run Fast. But at only a portion of the Floatride Run Fast's cost, the Forever Floatride Energy offers a lightweight, springy performance that's oh-so-similar to its more expensive sibling. What's more, our wear testers and several Runner's Worldeditors loved running in this shoe.
"This shoe is so close to being perfect," test editor Dan Roe said. "The ride is supple yet there's loads of energy return. It feels fast and smooth, and it works really well at sexy pace and threshold pace."


—BEST FOR LONG RUNS—
Brooks Launch 6
Weight: 9.4 oz (M), 7.7 oz (W)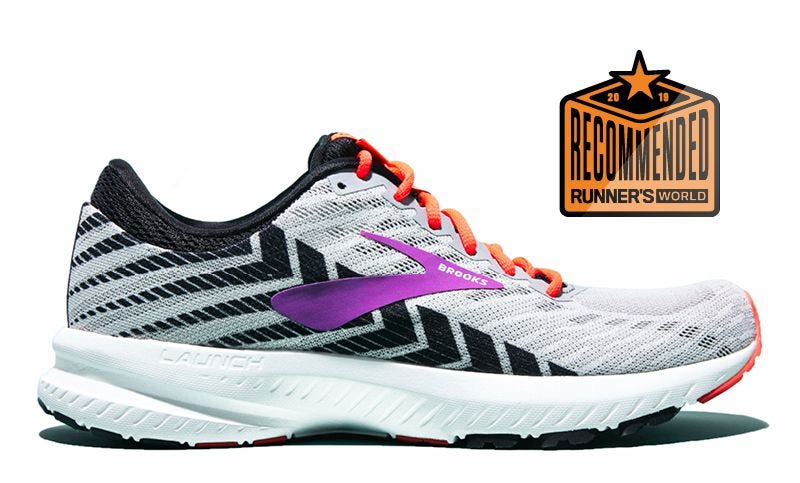 Updated with a sleeker upper
Responsive midsole provides moderate cushioning
Heelstrikers reported stiffness in the heel and slightly jarring impact landing
The Launch's purpose is two-fold. First, it's an affordable shoe for beginner runners looking for a neutral trainer that doesn't hit extremes (i.e., it doesn't feel like a marshmallow, nor does it skimp on softness) Second, it's also a reliable trainer for long-distance racing. Brooks added a little more foam in the forefoot of the midsole for a springier feel. Pair that bouncy ride with a new sleek and seamless upper, and you have a flexible, lightweight trainer that can take on long, hard efforts up to 26.2 miles without skimping on cushioning.
—MOST BAREFOOT FEEL—
Merrell Trail Glove 5
Weight: 7.0 oz (M), 6.0 oz (W)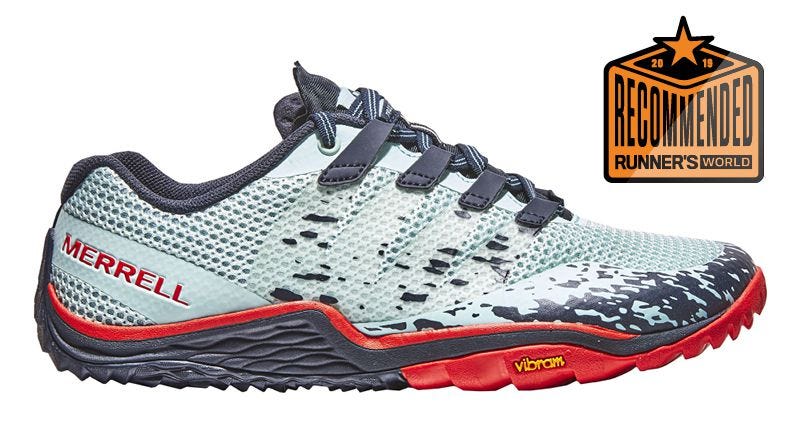 Anatomical fit paired with zero-drop offset mimics barefoot mechanics
Support zone in midsole cradles arch
Runners should ease into the Trail Glove due to minimalistic construction
Since the fourth version of the shoe was released back in 2017, Merrell has spent two years tweaking and refining the shoe's midsole to better mimic the foot in motion. The result is the brand's Barefoot 2 technology, which expertly balances an anatomical fit and zero drop with enough stability and underfoot protection. Merrell does it by carving out a support zone in the midsole, which cradles the arch while still allowing the foot to flex freely and adapt to quick changes in movement. This makes the shoe a standout for bombing down twisty singletrack, shuffling along a narrow creek crossing, or even just doing workouts at the gym.


—BEST FOR RUGGED TERRAIN—
Altra Superior 4.0
Weight: 8.7 oz (M), 6.9 oz (W)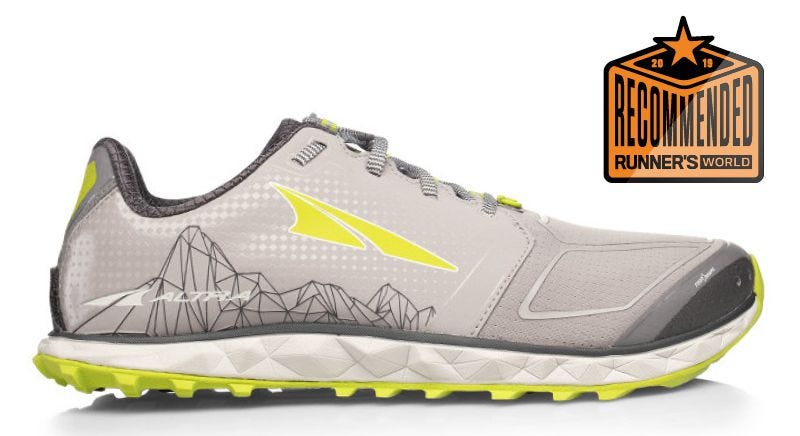 Beveled lugs help with toe-off on technical trails
Removable stone guards for more foot protection
Comes with ridiculously long laces, which can easily be remedied with replacements
The new Superior is the lightest model yet. The Runner's World Shoe Lab weighed the 4 at 8.7 ounces (men's size 9), making it more than 2 ounces lighter than its predecessor (the women's size 7 is 0.4 ounces lighter). The 4 also delivers impressive energy return thanks to the new Quantic midsole, which gives the shoe a softer, cushier feel, as well.


—BEST FOR 5Ks/10Ks—
Hoka One One EVO Rehi
Weight: 6.7 oz (M), 5.8 oz (W)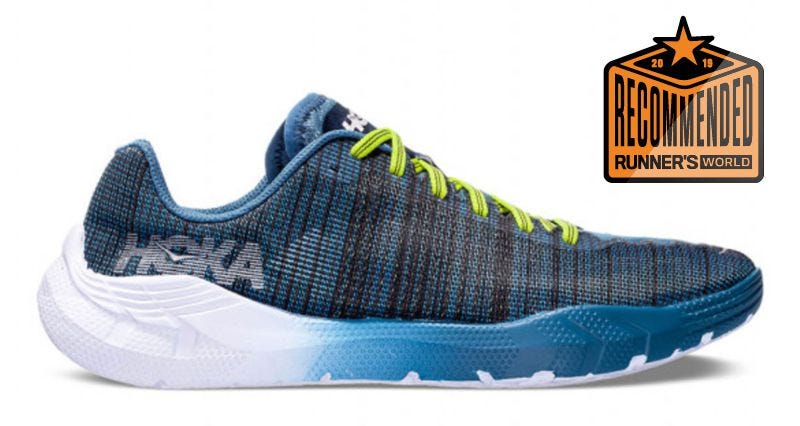 Behaves like track spikes, minus the steel pins
Kevlar upper is exceptionally light
A firm platform—this shoe is meant for racing
A Hoka One One in name only, the EVO Rehi is like nothing else the brand has put out in its young history. This elf slipper-like shoe doesn't have the thick, soft midsole you've come to expect. Instead, it's a low-slung, rock-hard racer, designed to do one thing—go fast over short distances.


—BEST FOR SPEEDWORK—
Nike Zoom Pegasus Turbo
Weight: 8.1 oz (M), 6.4 oz (W)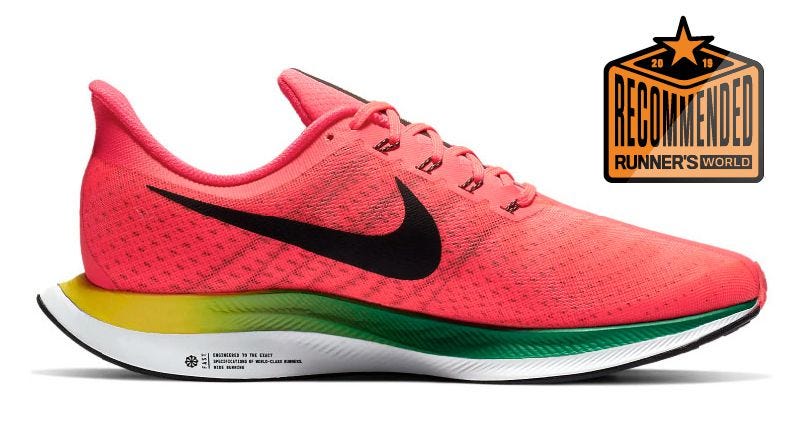 Springy, responsive midsole foam
Soft in the heel
Runs big; we recommend going a half size down
For decades, the Peg has been a do-it-all model that can handle high mileage as well as it can upticks in speed. But, that daily trainer is a bit too heavy and a little too soft to really be used for any kind of speedwork. This all-new "Peg Turbo" is designed to keep that legendary fit and feeling, but delivers the lightweight sensation of a racing flat.


—BEST FOR HILL WORKOUTS—
Arc'teryx Norvan SL
Weight: 6.4 oz (M 8.5)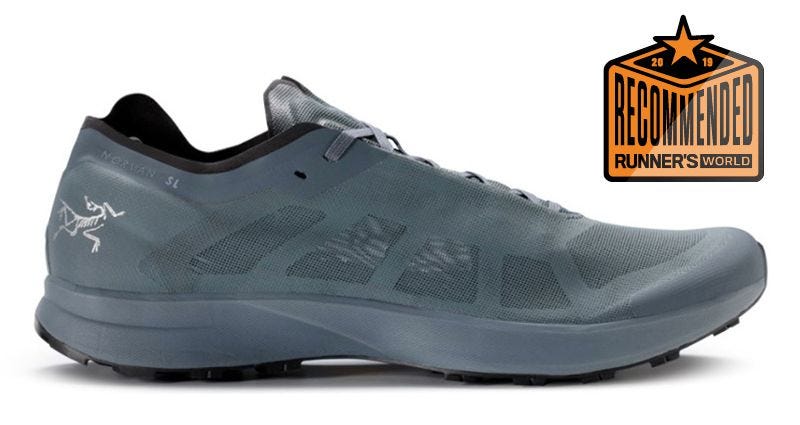 A narrow fit for nimble footing and more control
Packable, a slit in the heel serves as a carabiner attachment
Minimal cushioning means you better watch your step
Leave it to climbers to inspire the lightest trail shoe we've ever seen. After all, these are people that cut the tags out of their clothing just to shave grams. The Norvan SL (Arc'teryx code for "superlight") was originally designed for rock climbers as a compact and lightweight shoe to quickly traverse between climbing routes. As you can imagine, there's visibly not a whole lot to the shoes, but the brand's minimalist aesthetic comes packed with tech.


—MOST CUSHIONING—
Hoka One One Clifton 6
Weight: 9.0 oz (M), 7.4 oz (W)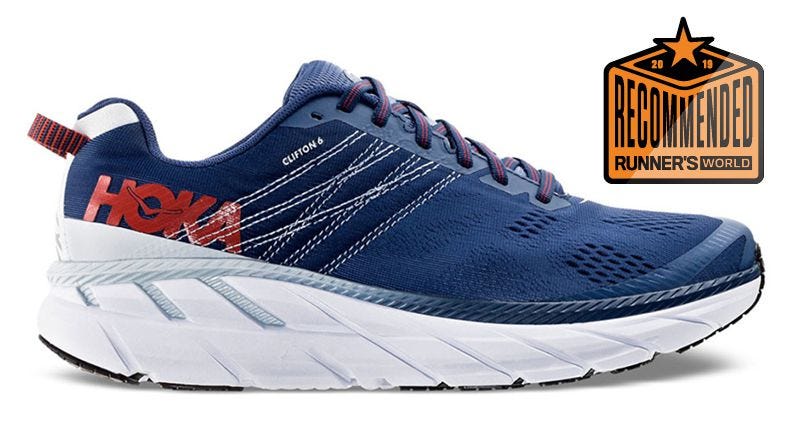 Full-length EVA midsole for plushness
Lightweight without sacrificing cushioning
Feels heavier than past iterations
One wear tester says it perfectly: "Nobody does cushioning like Hoka." Incredibly lightweight for its marshmallow-feel, the Clifton is known for making "maximal cushioning equivalent to bulkiness" a misconception; this trainer is light as a racing flat without the firmness underfoot. Our testers couldn't get over the comfort of the shoe; it will take care of the pads of your feet and joints for miles.

runnersworld.com