The first press-conference about Chisinau International Marathon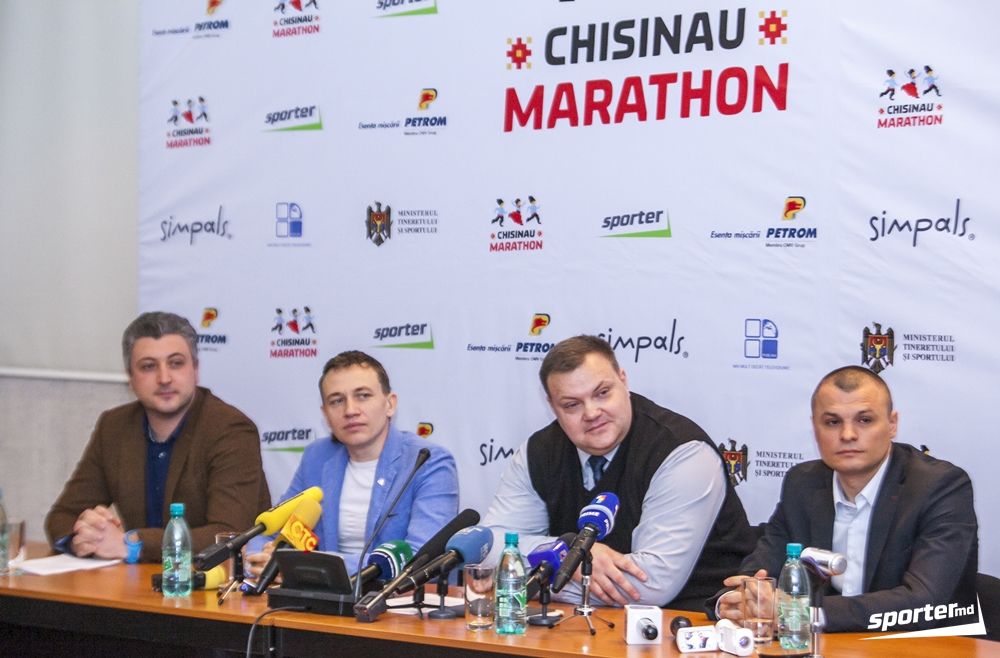 The first press-conference about Chisinau International Marathon, launching of the event's official website and opening of the registration of athletes for the marathon took place on February 26.
Press-conference was attended by Serghei Afanasenco, Minister of Youth and Sports of the RM, Dmitriy Voloshin, President of NGO Sporter organizing the Chisinau marathon, Roman Stirbu, in charge of organization of Chisinau Marathon, and Constantin Ivas, General Director of Petrom-Moldova, general sponsor of Chisinau Marathon.
Dmitriy Voloshin, president of NGO Sporter, amateur athlete, active participant of international marathons and other important international competitions, such as IronMan triathlon, gave the introduction speech. He spoke about how the idea of holding international marathon in Chisinau was born.
"2.5 years ago I got into sports, in particular running. After some time I felt that I was ready to run a marathon. I've been to marathons in many European cities: Amsterdam, Paris, Zurich, I've been to the US where I took part in New York marathon and San Francisco triathlon.

I noticed that marathon is not just a sports event. First of all it is a big celebration for the city. Families come outside on the streets to support the athletes, they cheer and celebrate. And when you reach the finish line, and you can hardly walk, they hand you a running medal, tap on your shoulder, give you hugs, say congratulations and cheer you up, you feel that you made it! And it's the best feeling in the world!
When you come back to Chisinau after such celebrations, it is sad because there are only few people who run here, there is no running culture similar to what exists abroad. Then we decided to create sports social network Sporter, to bring athletes together and promote healthy way of living. For the couple of years that we exist we hosted several dozens of successful sports events. Now we have the experience, energy and motivation to host such a large-scale event as Chisinau International Marathon! It will become a good tradition and a huge celebration for the city we love.
I want to address this call to all the people of Chisinau and citizens of our country. On April 26 take your kids, your family, loved ones, and come outside to support those crazy ones who will run 42 km on the main streets of our capital!", — said Dmitriy Voloshin.

The next one to speak was Roman Stirbu, the person in charge of organizing Chisinau marathon. He revealed some technical details, spoke about opening the registration of athletes for the marathon, launching of the official website www.marathon.md. He also emphasized the importance of support provided by the public authorities (Ministry of Youth and Sport of the RM) and private sector (Petrom-Moldova).
"There will be four races in the framework of Chisinau marathon: 42 km — marathon, 21 km — half-marathon, 10-km run and 3 km mass run for everyone. The organizing committee decided to make participation fees affordable for everyone. Thus, the participation fee for 42 km marathon is 200 Moldovan lei, half-marathon and 10-km run – 100 lei. It is a fraction of what it would cost to participate in marathons in Europe. Participation in the mass run will be free.
For the first time in Moldova professional time-tracking system will be used in this competition. Thus, athletes running 42 km, 21 km, and 10 km will be given single use electronic chip which will help to track their results live, and post them online immediately.
Marathon, half-marathon and 10 km participants will receive a welcome package, which, besides the electronic chip, will include official t-shirt of Chisinau marathon. At the finish line everyone will be awarded a symbolic medal for participation.
I would like to bring special thanks to the Ministry of Youth and Sports of the RM for their support. It is nice to know that authorities are not reluctant to participate as far as sport is concerned, and in particular, such important events as Chisinau marathon, which will also help boost the image of our country. We are also very happy about the fact that despite rough economy, private business is also investing in sport development. Thanks to the company Petrom-Moldova which is providing significant financial support to Chisinau Marathon", — said Roman Stirbu.

Minister of Youth and Sports of the RM Serghei Afanasenco mentioned how happy he was that there are such organizations like Sporter that initiate and take charge of organizing such large-scale events as Chisinau Marathon. Mr. Afanasenco assured everyone that Ministry of Youth and Sports of the RM will provide all the necessary support to Chisinau Marathon.
"It's great that we have such organizations as Sporter that revive amateur sport in Moldova. We all know that prominent athletes do start as amateurs. Ministry of Youth and Sports of the RM is more than happy to support such initiatives. Our cooperation begins with Chisinau Marathon, and I am sure this event is just the beginning of a great future for us", — said Serghei Afanasenco.

General Director of Petrom-Moldova Constantin Ivas mentioned that this is not the first time when the company is providing financial support to sports events.
"Our company is happy to support this undertaking. I was born in Moldova, recently came back here after 20 years spent abroad. Unfortunately, I discovered that there is no such mass culture of amateur sport here as there is in other countries. There are few organizations that would support and develop sports. And Sporter is one of the few such organizations.
The support that Petrom-Moldova provides to Chisinau Marathon is continuation of long-standing tradition at our company. Thus, Petrom is the sponsor of international marathon in Vienna, and general sponsor of Bucharest half-marathon which takes place in the capital of Romania every spring.
Sport is not just an activity, it's a lifestyle. It unites all kinds of people, professional athletes, amateurs, fans. The more often we hold such events, the sooner we will be able to change people's mentality, get them interested in sports.
Just like Dmitriy Voloshin, I started training and running routinely about a year and a half ago. Such initiatives as organizing Chisinau International marathon stimulate healthy life style, promote self-development, and self-improvement.
I would also like to thank Ministry of Youth and Sports of the RM, because support provided by the authorities is very important", — said Constantin Ivas.
Chisinau International marathon will take place on April 26, 2015. In the past only one marathon took place in the capital of Moldova – in 1986.
You can take part in the marathon by completing the registration online at www.marathon.md.

Irina Coreachina for marathon.md