The Best Running Gear for Women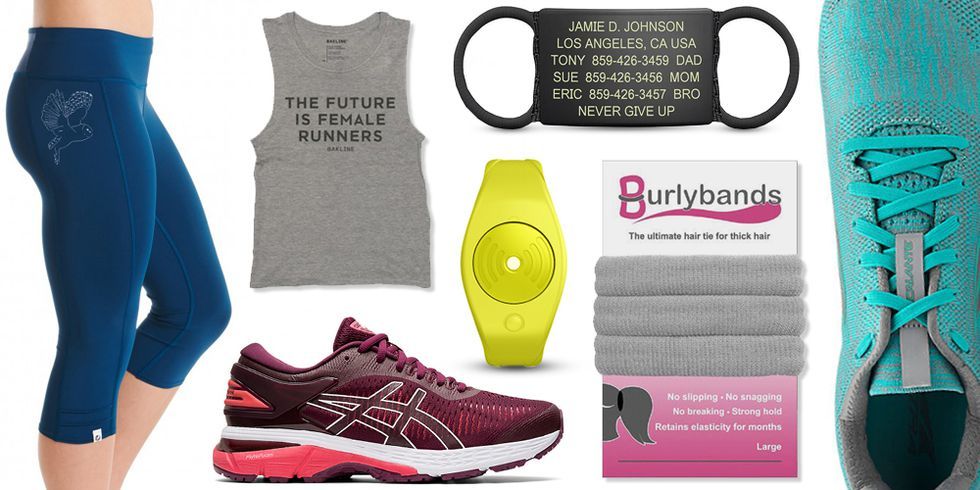 Stay safe, feel supported, and keep it stylish with these must-haves.
There are more women runners out there today than ever before. In fact, ladies have outnumbered men in every race distance up to the marathon since 2014, according to data from RunningUSA.org. If you're wondering why, Kathrine Switzer, one of the most badass female runners in history, has a few ideas:
"She's getting in her daily dose of empowerment, freedom, and fearlessness. She has put on her freedom wings for 20 minutes or two hours. That's going to make her whole day right and her whole future hold up and seem entirely possible. The sense of her not having any limits, or any restrictions, to me, is so liberating."
If you ask us, that's a mantra worth shouting from the rooftops to the starting line. But there are still some things about being a female and a runner that don't always feel so liberating. (Think: uncomfortable sports bras, periods, and especially feeling unsafe when running alone or at night.) But with the right gear, these things don't have to slow you down. We chose some of the best running essentials for feeling safe, supported, and stylish that will keep you doing what you love. So strap on your freedom wings ladies, and go get those miles.
How We Chose This Gear

Every piece of gear on this list has been evaluated and vetted by our team of test editors. We research the market, survey user reviews, speak with product managers and designers, and use our own experience to determine the best options for your runs. In this list, we have also included links to full reviews for the products that our testing crew has personally run and sweated in. We hand-picked the gear below based on performance, price, comfort, technical features, and style to build this collection of top essentials for female runners. 
1. On Foot: Asics Gel-Kayano 26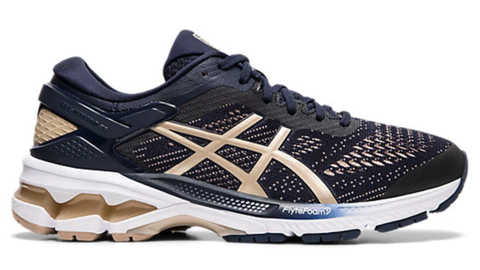 The Kayano is a go-to shoe for women who overpronate, or need a little more stability than the average neutral shoe can offer. More GEL in the heel from the previous model and a combo of two lightweight foams give the 26s a soft, yet sturdy, ride. (The stabilizing Guidance Line has been shortened in this update, making the more accessible to neutral feet, but still offering impressive control.) But the biggest selling point for female runners is gender-specific cushioning that adds 3mm of midsole height to reduce strain on the Achilles tendon.
2. Altra Escalante 1.5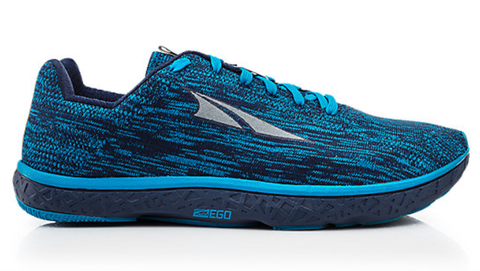 But what if you're looking for something lighter, or need a pair of kicks for race day? Your best bet here is the Escalante. Altra pairs its heralded zero-drop platform with a featherweight midsole for an underfoot experience that is minimalist, yet still bouncy and energizing. Plus, the brand goes the extra mile for ladies with its specialized Fit4Her technology, which better fits the female foot anatomy with a narrower heel and wider toebox.
3. Best for A-C: Nike FE/NOM Flyknit Bra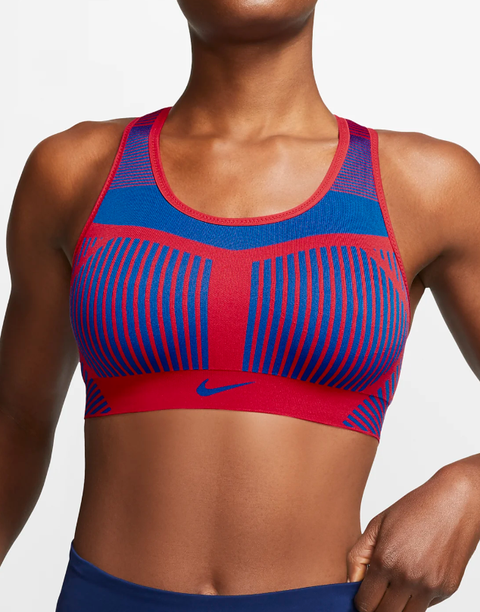 Flyknit isn't just for shoes anymore. Nike whipped up this stretchy and supportive bra using the same technology you'll find on trainers like the Vaporfly 4% and the Zoom Fly. According to Nike, this single layer bra is its lightest, most supportive, andmost environmentally sustainable option yet—thanks to its unique blend of polyester and spandex, and the specialized waste-reducing Flyknit manufacturing.
4. Best For C-D: Title Nine AC Bra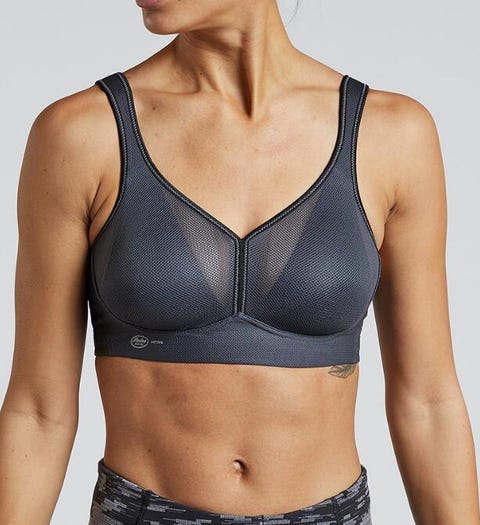 Part of Title Nine's work-to-workout collection, the AC bra shines for its versatility. A flattering scoop V-neck and contouring modesty pads make it easy to wear at the office, while the wireless, open-mesh design keeps you comfy and cool on your run after rush hour. Adjustments on both the straps and back closure tweak the right amount of support for your activity, so you can leave that extra sports bra at home.
5. Best for D+: Shefit Ultimate Flex Sports Bra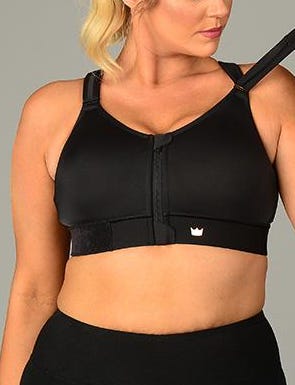 Larger-busted runners raved about the no-bounce security offered by SheFit's zip-front bras, and it's no wonder why. Nearly every inch of this bra can be adjusted to give you that "made-for-me" custom fit. You can cinch the shoulder straps for more or less support, criss-cross them for an X-back design, or leave them straight for a traditional style. Plus, the bottom ribcage band allows for eight inches of adjustment to dial in just the right amount of snugness.
6. On Top: Sarah Marie Design Studio Elite Marathoners Tee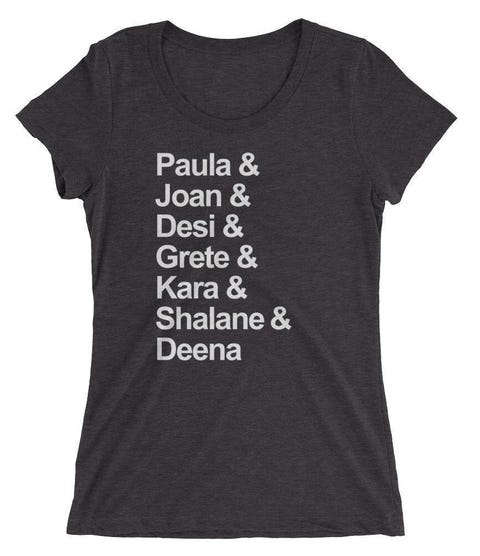 Go ahead—try to name a more epic runner girl gang, we'll wait. This tri-blend tee is light and breathable, not to mention stacked with a line-up of seven of the world's best female marathoners to ever toe the line. Throw it on when you need a little extra motivation for your runs, and you'll feel one step closer to adding your name to the list.
7. "The Future is Female Runners" Muscle Tank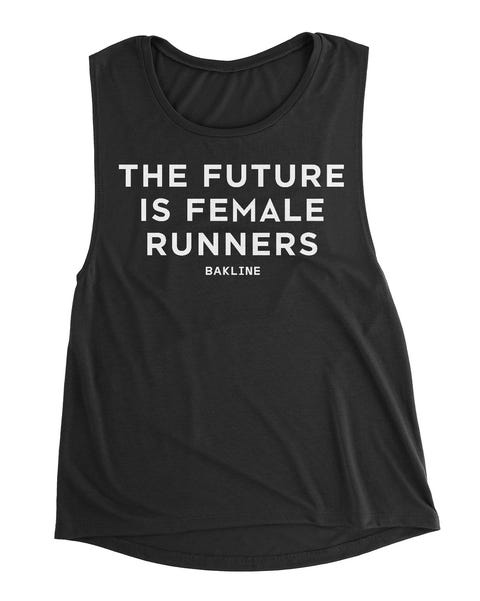 Every runner needs at least one awesome statement tee, and we love the message on this tank from Bakline. Take note that the solid colors (grey and black) are made with bamboo viscose and cotton, which will fade slightly in the wash for an edgy, vintage vibe. If that's not your thing, the black marble option uses mostly polyester, making it slightly better for super sweaty workouts.
8. Oiselle Kara Tank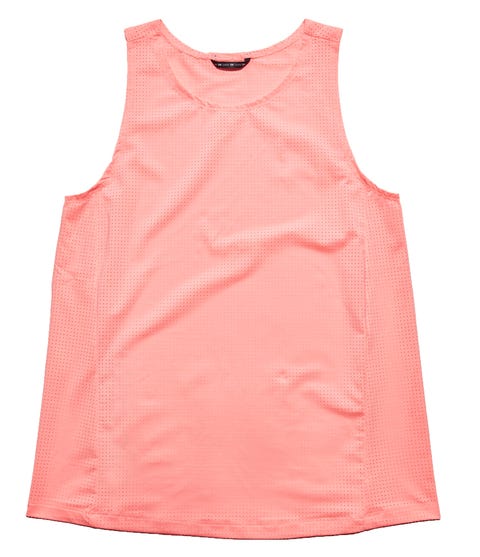 Oiselle has an entire Kara Goucher collection, and this tank was designed specifically for what the elite loves in her running tops. This pick provides all-over ventilation with silky and breathable Plya Knit Hole Punch fabric, and has a slight A-line silhouette for more coverage. With more versatility than a standard muscle tank, it's a must for multitasking runners like Kara.
9. On the Bottom: Senita Athletics Swift Shorts 4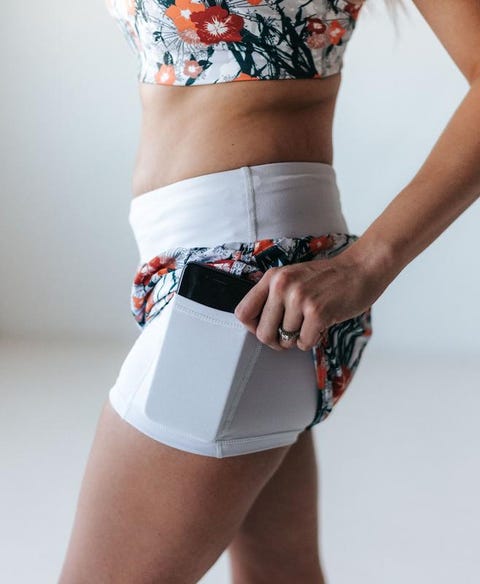 This pair from Senita has a lot to offer for a $25 price tag. Built-in compression shorts underneath feature a phone sleeve large enough to hold an iPhone 8+, while the outer layer offers three additional pockets for a house key, gels, and cash. The 4th iteration also has an improved fit from the third with more size options. Plus, you can grab them in cute prints and colors—like freesia floral and surf blue—to match every workout.
10. Free People Biker Baby Shorts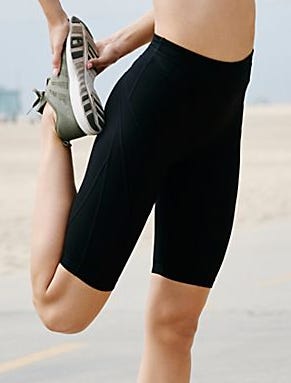 Free People's Movement activewear line might just be the bougie brand's best kept secret. These high-rise poly-spandex shorts are less compressive that your typical biker bottoms, which make them comfier for both runs and post-workout hangs. Not to mention, FP donates a percentage of all its Movement line revenue to its non-profit partner, Girls Inc.
11. Lululemon Pace Rival Running Skirt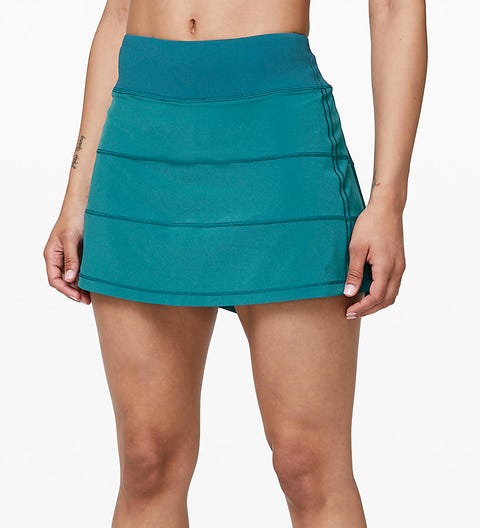 Alright, hear us out on this one. Running skirts are seriously convenient for days when you want to mix up your workout wardrobe a bit, and especially for when you've still got places to go after your sweat sesh. This sweat-wicking pick from Lulu has built-in shorts underneath with secure pockets, and even adds an easy-access eyelet for your headphone cord. Go long or mini with two length options.
12. Knix Leakproof Dream Shorts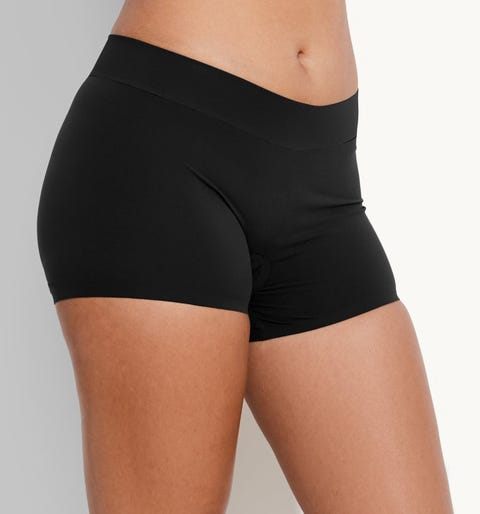 This pair of leak-proof shorts is invaluable for that week each month when you need a little extra peace of mind on your runs. They feature a built-in, three-layered pad that can hold up to five teaspoons of fluid (the equivalent of three regular tampons), and will also protect against bladder leaks. "These underwear are a game-changer," our tester says. "Nothing—I mean nothing—leaked through my underwear. I was dry and comfy for the entire run."
13. Staying Safe: Wrist Saver Pepper Spray for Runners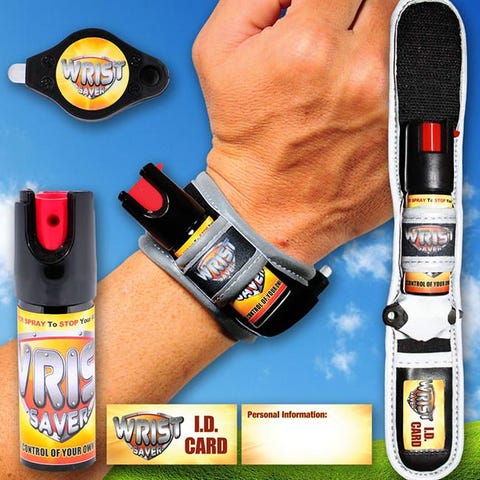 As female runners, this is one of those things that we wish we didn't need to feel safe. But if you're out running alone, or after the sun goes down, this mini wrist-based pepper spray can literally be a life saver. This small-but-mighty spritzer reaches up to 10 feet, and features an easy-twist safety lock, emergency ID card, and LED light for added visibility.
14. Sidekick ID for Fitbit + Garmin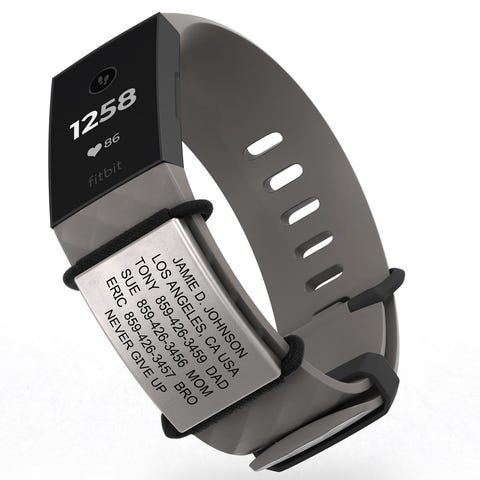 If you fly solo on your runs, you probably know that it's a good idea to keep ID on you—but carrying it for miles can be a pain, and maybe you aren't crazy about wearing an ID band. The Sidekick makes staying identified as easy as strapping on your GPS watch. Simply slide the customized faceplate onto its wristband go. (Also available for the Apple watch, and as a shoe tag.)
15. Run Angel Safety Wearable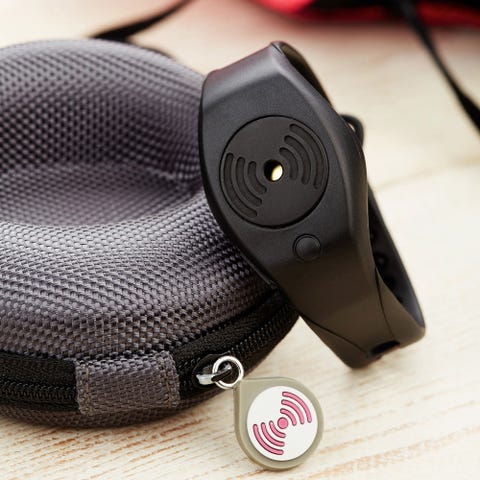 The Run Angel will make you feel safer any time you venture out alone—whether it be for a night run or a night out. When activated, the bracelet emits an ear-shattering 120 decibel alarm to attract attention in an emergency. Pair it with the compatible smartphone app, and the Run Angel will automatically send an alert text message with your location to your specified contacts.
16. All the Extras: Burly Bands Hair Ties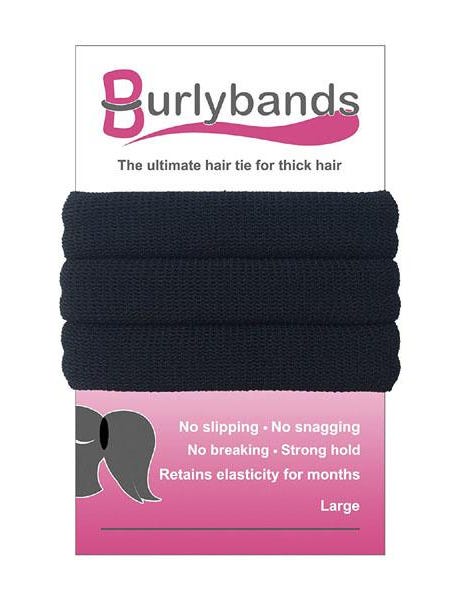 Whether you want to channel your inner Colleen Quigley with braids, or copy Alexis Pappas's iconic bun, these ties will keep your hair secure for your entire workout. Specifically designed for thick and easily-tangled hair, Burlybands won't slip out, break, or damage your locks. Plus, they resist stretching out and losing their snap, so you won't have to keep buying more.
17. Racin' Grayson 2019 Planner and Training Log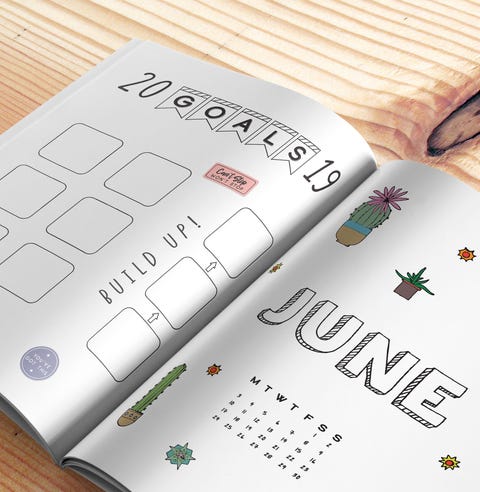 If you're a fan of Lauren Fleshman's Believe Training Log, you'll love Grayson Murphy's bullet journal-inspired planner. The NAZ Elite runner designed this triple-threat log-journal-planner combo for athletes who like to keep all their notes in one place. Plus, it's loaded with fun, creative extras—like pages for your bucket list, books to read, and movies to watch—so you can stay motivated on running days and rest days alike.
18. Koala Clip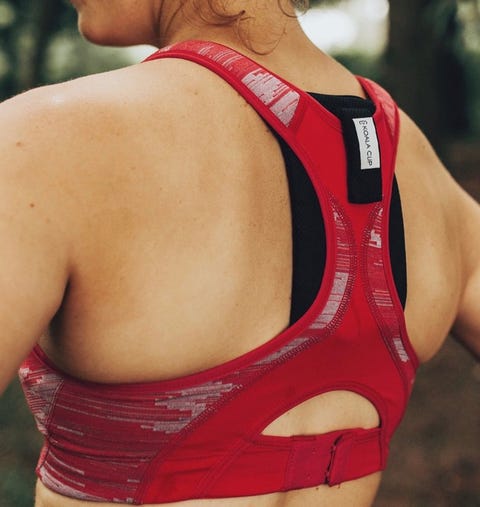 If you've tried everything from belts to armbands with no avail to comfortably tote your phone on a run, allow us to introduce the Koala Clip. This sweat-resistant pouch attaches to your sports bra so you can piggyback your phone and other essentials through your workout, hands- and bounce-free. You can grab the Koala Clip in three different sizes and a rainbow of colors, and you can even personalize it with your favorite race manta.