KPMG Moldova Company is again preparing together for Chisinau Marathon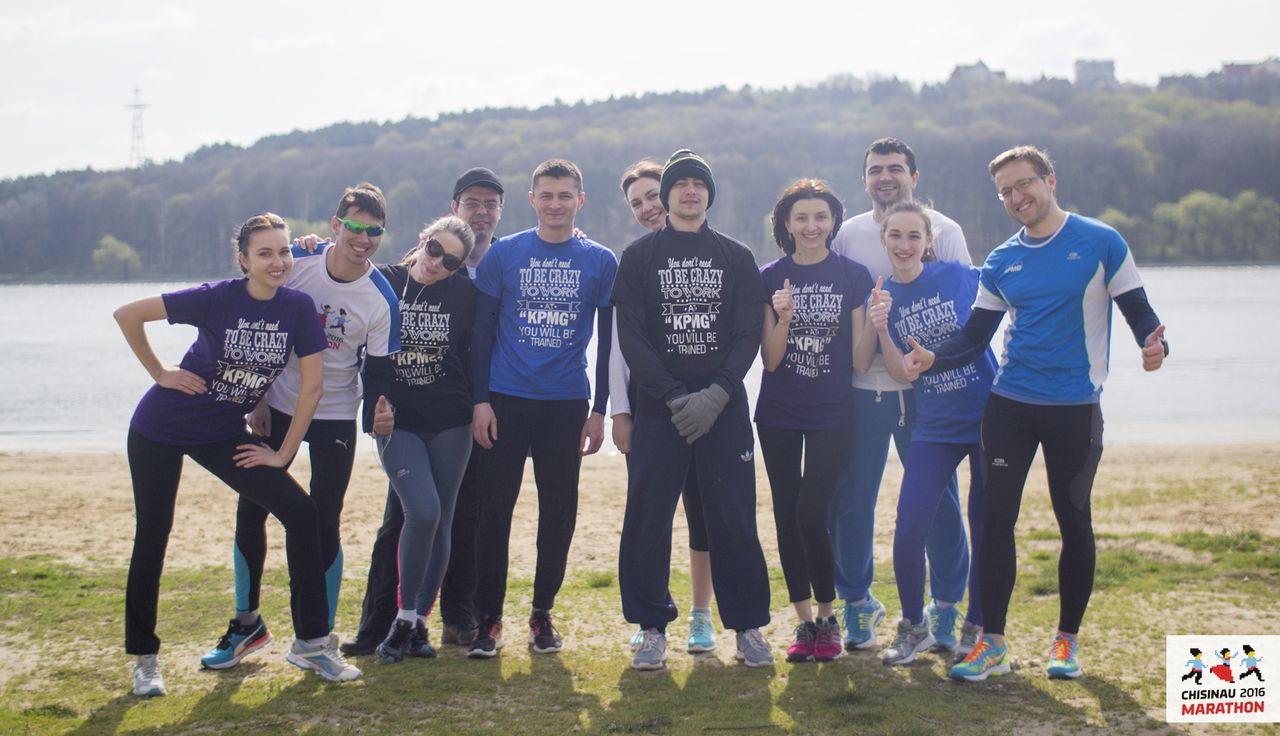 Would you like to implement the spirit of sportsmanship in your organization? Sign in for corporate trainings from the organizers of International Chisinau Marathon (details).
Saturday came, and namely on this day, traditionally, KPMG Moldova Company has gathered again for the corporate training within the framework of preparation for the second Chisinau Marathon.

The first corporate training this year went by quite an unusual scenario. This was not even expected by KPMG employees. To begin with, strong wind was blowing the entire day at a speed of 34 km/h, which complicates the training process. But it's not a problem, because KPMG team knows how to fight and defeat all difficulties.

Despite difficult weather conditions, the coach Liviu Croitoru decided to conduct training not only by running on the asphalt, but also by conquering the ups and downs of the park Valea Morilor, thus helping the runners to develop endurance.

So, the 10 employees of KPMG Moldova were determined to practice, and under the guidance of Sporter Run coach, Liviu Croitoru, everyone started to warm up and heat up their muscles before running. We took a general photo and ran towards the woods.

The training has completed with a good hitch, stretching and other exercises for physical activity. The coach made KPMG team run quite to a serious extent, so it's safe to that KPMG Moldova is ready for the second Chisinau marathon.

KPMG Company may boast with quite a well trained sports team, because the main initiator and inspirer of his colleagues, senior manager of KPMG, Vitaly Kornichuk, is regularly engaged in jogging, and is involved not only in Chisinau Marathon, but also in other marathons, visiting different countries. Most often with Sporter team.

KPMG Moldova participated in the first International Chisinau Marathon, which took place on April 26, 2015, so the KPMG team members have some experience in running. Because of their desire to be the best, they will be able to show a good result at Chisinau Marathon, and possibly become the most athletic team of Moldova.

If you have never been engaged in running, now is the time to prepare for the second Chisinau Marathon, which will be held on April 17th, 2016. For the second consecutive year, more than 10,000 athletes will run through the streets of Chisinau. It is namely your friendly staff that may be able to qualify for the title "The most athletic sports team of Moldova" by taking part in the 10 km race!
Check the details on corporate races here, as well as by phone: +373 79996953 and e-mail: marathon@marathon.md.
David Lutsyk for marathon.md