Fastum gel: run without pain at Chisinau International Marathon!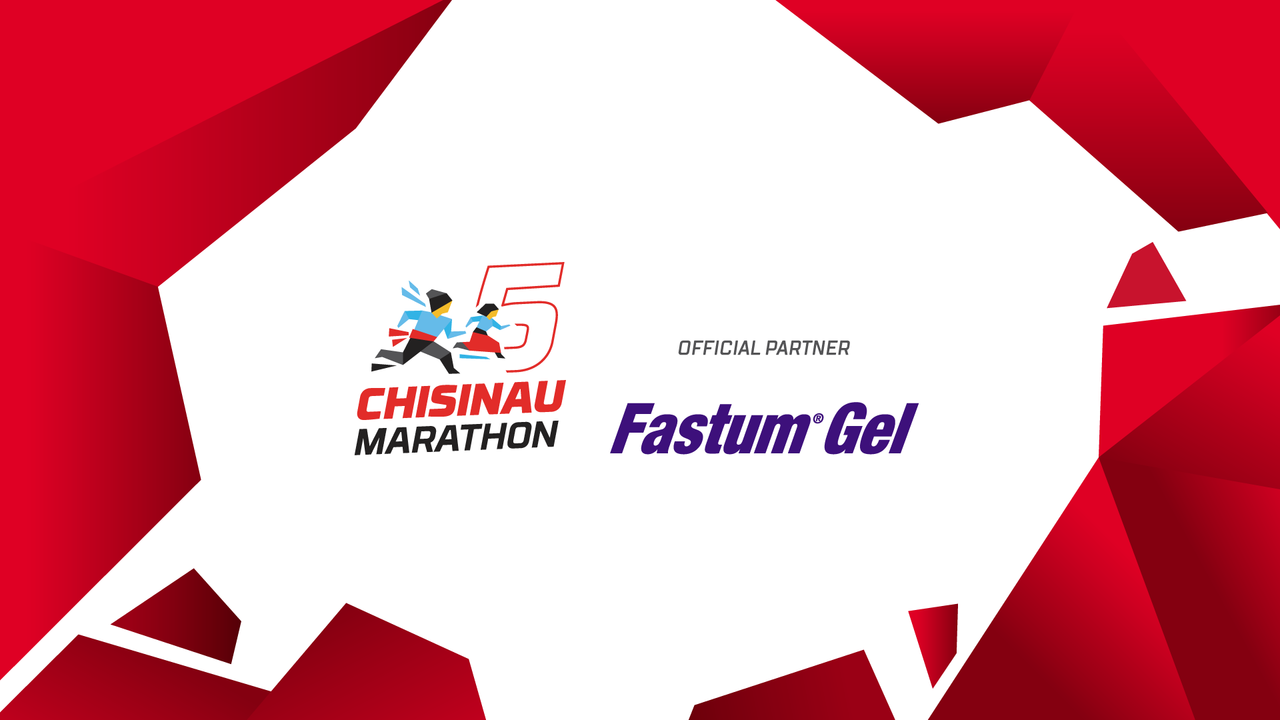 Beyond entertainment, adrenaline, medals and positive emotions, sport has to do with many unpredictable situations, for example, joints or back pain. These situations can mess up your whole plans. Fastum gel became an official partner of Chisinau International Marathon, so you can run without the fear of such incidents.
Fastum gel is ketoprofen-based ointment, which is a non-steroidal antirheumatic analgesic and anti-inflammatory drug. Fastum gel is used for improvement of muscle and joint pain, edema caused by injuries, other post traumatic conditions (such as: dislocations, sprains, stretches, tendon and ligament ruptures) and muscle pain caused by excessive workout.
The fifth Chisinau International Marathon will be held on September 29 in the Great National Assembly Square. Anyone may participate in the race: either beginner, amateur or professional, and each one of them can choose one of the following distances:
Marathon by #BeActive (42 km 195 m)

Half marathon by Technosoft (21 km 0975 m)

10 km Race by Naturalis

5 km Race by Herbalife

Fun Run by Iute Credit (1.5 km)
For more information and registration, visit the official website: https://marathon.md/en/Register.
Musculoskeletal pain
Pain is the most common complaint in outpatient conditions and is one of the main reasons for visiting a doctor.
Musculoskeletal pain refers to algal pain which can be located in any locomotor system structures or components.
Musculoskeletal pain affects muscles, ligaments and tendons, as well as bones.
The causes of this pain may be very different (post-traumatic, inflammatory, infectious, degenerative or malignant), which include: postural overload, repetitive movements, tiredness and long period of immobility, posture changes (spine disorders) and muscle shortening. All of these cause the muscles to malfunction and to produce pain. One of the most frequent musculoskeletal pain is the one in the back, which is among the most important adult health problems caused by lifestyle, working places and other activities they do. Other situations described as musculoskeletal pain are sprains - acute traumatic injuries that affect the ligaments. The sprain is produced by a rupture or overextension of a joint. The most frequent locations of sprains are the following: ankle, knee and wrist. In addition, the most common location of acute pain is the knee. Either it is an acute traumatic injury with tendon damage, such as: knee elongation or joint damage plus inflammation (arthritis) or cartilaginous structure degeneration (osteoarthritic disease) - all of these are the source of acute musculoskeletal pain.
It is very important to lower the acute and unbearable pain, because it can grow into chronic pain. If the pain doesn't go away and lasts for a few days, you shouldn't wait any longer, but go and see the doctor.
To reduce musculoskeletal pain and inflammation, use Fastum® gel.
The active component (ketoprofen) of Fastum® gel is very efficient in local pain and inflammation treatment of neck, back, muscles and joints.
During the treatment and 2 weeks after it, avoid direct exposure to sunlight or UV rays.  
Fastum® gel is used for treating local muscle and joint pain, edema caused by injuries, other post traumatic conditions (such as: dislocations, sprains, stretches, tendon and ligament ruptures), muscle pain caused by excessive work out, degenerative joint disease, as well as for easing the back pain and inflammation (minor pains). 
This is a medicine. This medicine is given without a prescription. Read the package leaflet carefully. If unpleasant events occurred, contact your doctor or pharmacist. Fastum® registration number 50 g 21884 as of 30. 07. 2015. Fastum® registration number 100 g 21882 as of 30. 07. 2015. Material code MD_FAS_07_2019_v01_web article as of 03.07.2019
Representative office of "Berlin-Chemie / Menarini" in the Republic of Moldova 85, Alexandru cel Bun St., Chisinau, Republic of Moldova, MD-2012
Tel .: (+373 22) 21 25 58; (+373 22) 24 33 95;
Fax .: (+373 22) 24 42 84