Dexalgin®: Run without pain at Chisinau International Marathon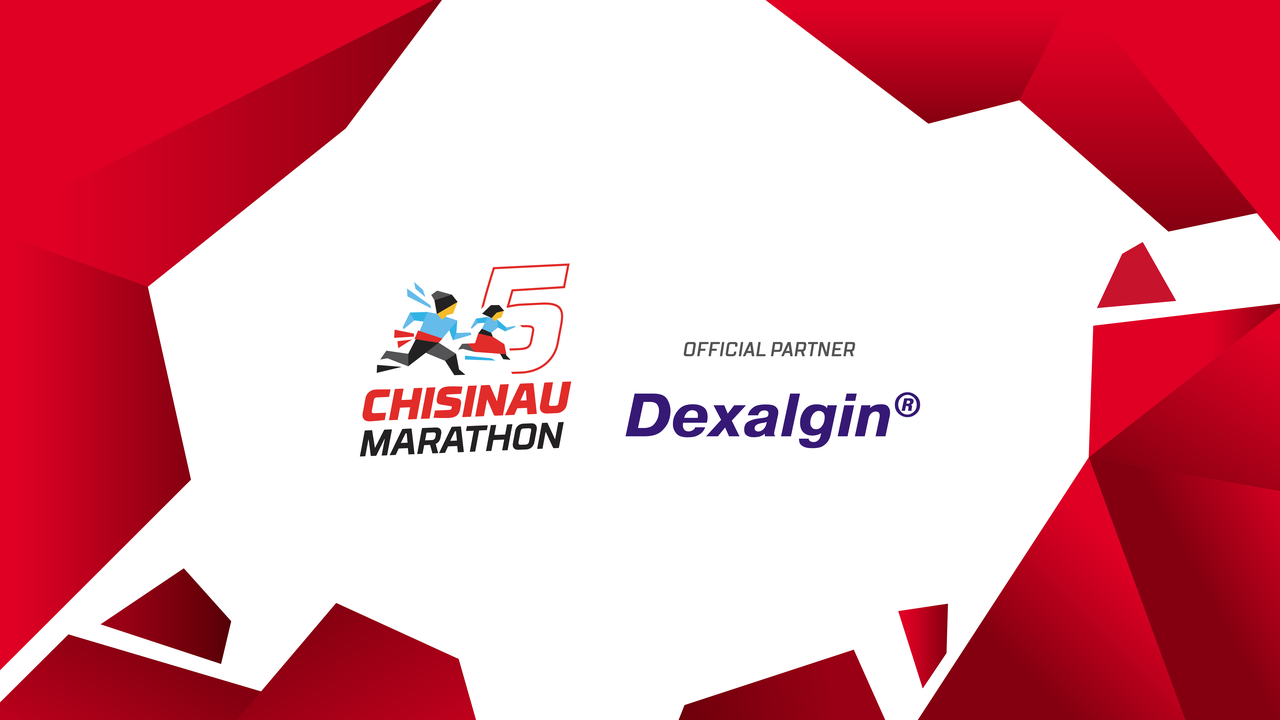 On September 29, the Chisinau International Marathon will be held in Moldova. The participants of such races are always nervous and worried, because absolutely anything may affect their results, e.g.: weather, mood and even discomfort or light tooth pain. Dexalgin® will help overcome any painful feelings before and after the race, because it has become its official partner.
As a reminder, Chisinau International Marathon is the largest race in Moldova, which is held for the fifth time for both professional and amateur sportsmen. Both children's race, Kids Run Day (September 28),  and 1.5 km entertainment race, Fun Run, will be held as part of Chisinau International Marathon.
To learn more about this event, visit the official website marathon.md.  
The musculoskeletal pain represents the pain which affects muscles, tendons, ligaments and bones.
What causes the musculoskeletal pain?
There are many reasons for musculoskeletal pain. The muscle tissue might be damaged due to daily activities. Musculoskeletal pain may be produced by such factors as: uncomfortable movements, car accidents, falls, fractures, sprains, dislocations and concussions. Other causes of pain include: postural stress, repetitive movements, overload, and prolonged immobilization. Changes in the body position or mechanics may generate problems with the spine and muscle shortening, thus leading to the misuse of other muscles and pain.
There are also other diseases of the musculoskeletal system, which include the following: tendonitis, carpal tunnel syndrome, osteoarthritis, rheumatoid arthritis, fibromyalgia, bone fractures, which are very common, and the risk of developing them increases with age. The damage level of the locomotor system may vary. Sometimes it may cause pain and discomfort, which hinder the daily activities. The early diagnosis and treatment may help ease the symptoms and improve its long-term condition.
One of the most widely spread  musculoskeletal pain is backache, which varies from person to person. It may be acute or aching. There are many false narratives about backache. The reality shows that 80% of people felt strong pain in the back at some point. About 50% of them will have this pain repeated more than once a year. In 90% of cases, pain relief is better without surgery. If you have backache, you should visit a doctor.  
The majority of backache cases can be treated with non-steroidal anti-inflammatory drugs (NSAIDs). Many people do not need strong treatment of back pain. Usually, to relieve the pain, people simply have to take painkillers, which are sold without prescription. In more difficult cases, people might need more serious treatment based on a doctor's prescription.
Which are the  symptoms of musculoskeletal pain?
At times, people with musculoskeletal pain may complain that it covers the whole body and the muscles are tensed or overloaded.
Sometimes they may have spasms or burning feelings in the muscles. The symptoms may be different from person to person, but the common ones are the following: pain, tiredness and insomnia.
How to diagnose the musculoskeletal pain?
Your doctor has to take you for an examination and check your medical history. In addition, your doctor may conduct several diagnostic tests to confirm or discard the diagnosis.  
How to treat musculoskeletal pain?
Various types of manual therapy and mobilization may be used. For some types of acute musculoskeletal pain, these methods accelerate the healing. Such medicine as the non-steroidal anti-inflammatory drugs (NSAIDs), may be used to treat the inflammation or pain. On the other side, it is difficult to ease the musculoskeletal pain. The most effective instrument in treating the pain of autoimmune or immune-mediated diseases is the treatment of the disease itself. Analgesic non-steroidal anti-inflammatory opioid drugs are used to treat pain.
The painkilling is the most important intervention in the degenerative diseases. The most effective analgesics are the nonsteroidal anti-inflammatory drugs.
Why is it so important to relieve pain?
The right pain treatment has an important role in fighting acute and intolerable pain, so that it doesn't transform into a chronic one.
Do it! Don't think the pain will just go away!
If the pain doesn't go away and it lasts a few days, don't wait any longer, visit a doctor. If you start the treatment earlier, you have greater chances for success.  
What is Dexalgin®?
Dexalgin® represents a fast and effective painkiller with anti-inflammatory effect, which is used for symptomatic treatment of light or medium levels of pain, for example, acute musculoskeletal pain.
Dexalgin® is available in drugstores as filmed pills and sachets with granules (powder), which is easily dissolved in water.
You don't need a prescription to buy this drug. 
Dexalgin® is a painkiller (analgesic), which contains dexketoprofen, as the active substance, and it represents the only substance that can be manufactured in two formats: filmed pills and lemon flavored granules. 
This product is a medicine. This medicine is dispensed without a doctor's prescription. Read the instructions carefully. In case of side effects, consult a doctor or pharmacist. 
Registration certificate Dexalgin® 25 mg film-coated tablets 23455 from 04/13/2017. Registration certificate Dexalgin® 25 mg sachets with granules for oral solution 24019 from 11/16/2017.
Material code: MD_DEX_12_2019_V01_web article .. Material developed: 08/09/2019
Representative office of "Berlin-Chemie / Menarini" in the Republic of Moldova 85, Alexandru cel Bun St., Chisinau, Republic of Moldova, MD-2012