Commemorative attributes of Chisinau Marathon at Sport Expo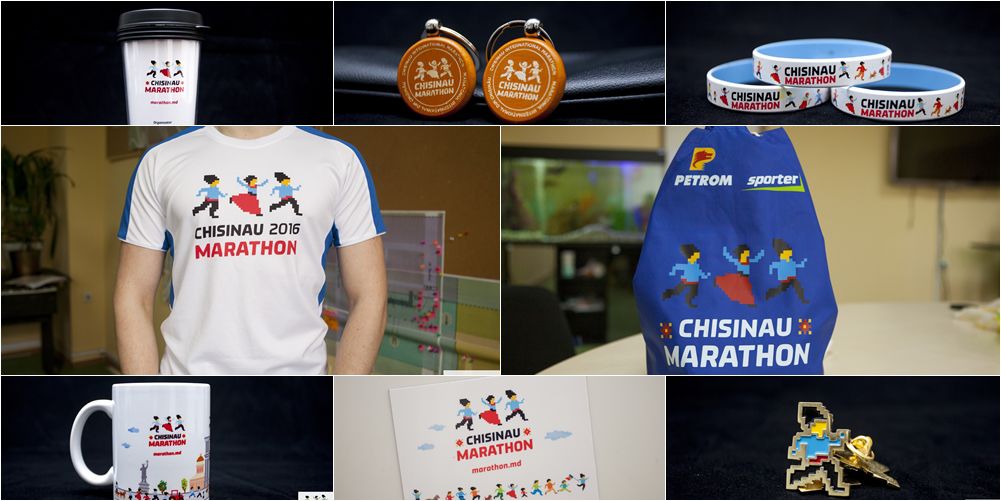 We present you the attributes of Chisinau Marathon, which you can buy as a memorable souvenir of the national marathon during the sports exhibition (Sport Expo), which will be held on the Great National Assembly Square Sport Expo for a three-days period:
April 15, 14:00 – 19:00
April 16, 10:00 – 19:00
April 17, 07:00 – 17:00
So, here's a list of the nice memorable things you can buy in the store of Chisinau Marathon:
– Cup of Chisinau Marathon, which will be a nice decoration for your home service. After drinking a morning coffee or tea from this mug, you will feel a surge of new strength, and, of course, the desire to go for a jog.

– Thermoglass of Chisinau Marathon. Going out for a run, you can bring along some more tea or coffee, as well as take the thermoglass with you on a long road, in the office, on a picnic or to drink out of it in the car.

– Magnet of Chisinau Marathon. This magnet will decorate any refrigerator or other metal surface. Magnet is a kind of medal for your refrigerator with healthy food in it.

– Badge of a running man. A golden badge, painted in national colors, will be a great gift for yourself and your loved ones. And if you are fond of sports travel, by wearing a badge on the outer garment you will make anyone pay attention to you, because you don't meet a little pixel running man every day!

– Wooden Keychain. Now your keychain will be sealed by a strong ring of Chisinau Marathon. You will daily remember about the marathon, which brings a real holiday to Moldova and remains in people's hearts for a long time. Everyone should have this keychain.

– Silicone Wristband. A bright and beautiful accessory that will look nice on any hand, be it a man, a woman or a child. You may also choose bracelet of any color – blue, yellow and red. These colors are the colors of Chisinau Marathon and the national flag. You can buy one color or three at once, giving them to your friends or family.

– T-shirt of Chisinau Marathon 2016. Everyone can get it, who visits the Sport Expo. By the way, T-shirts are manufactured in Moldova, and made specifically for sports, and namely for Chisinau Marathon. Read more about the T-shirt here.

– Backpack of Chisinau Marathon. It will be a good acquisition for the collectors, because the branded backpack is totally different from last year, not only by its shape, but also by the color. It allows you to put a lot of personal things in it. For more information about the backpack, click here.

These are 8 accessories that you can purchase at the second Chisinau Marathon, which will be held on April 17th at the distances of 42, 21, 10 and 3 km. Do not miss this event and sports exhibition on 15th, 16th and 17th of April.
And if you have not become a participant of Chisinau Marathon yet, then sign up now on the website marathon.md.