Azbuca Travel: Running together through Chisinau
You can learn the history of the city in several ways: by studying historical sources, by walking tours or by taking a tour guide on a bus. Today, excursions that combine city view and running activities, gain more and more popularity. This kind of service is offered by the tourist company Azbuca Travel.
Running after the guide through the city is an activity for those who like to be constantly on the move. Excursions of this type are a successful combination of a cultural program, communication and fitness. It is not necessary to be a candidate master of sports to enjoy a racing excursion. You can choose a comfortable running pace, which will allow you to make stops in the important parts of Chisinau. You will notice that, with each hundred meters, the views of Chisinau will be changing: like film shots. The pace of the excursion will not affect its content - sightseeing every famous place of the city will be full, only the time of travelling from one point to another will be significantly reduced.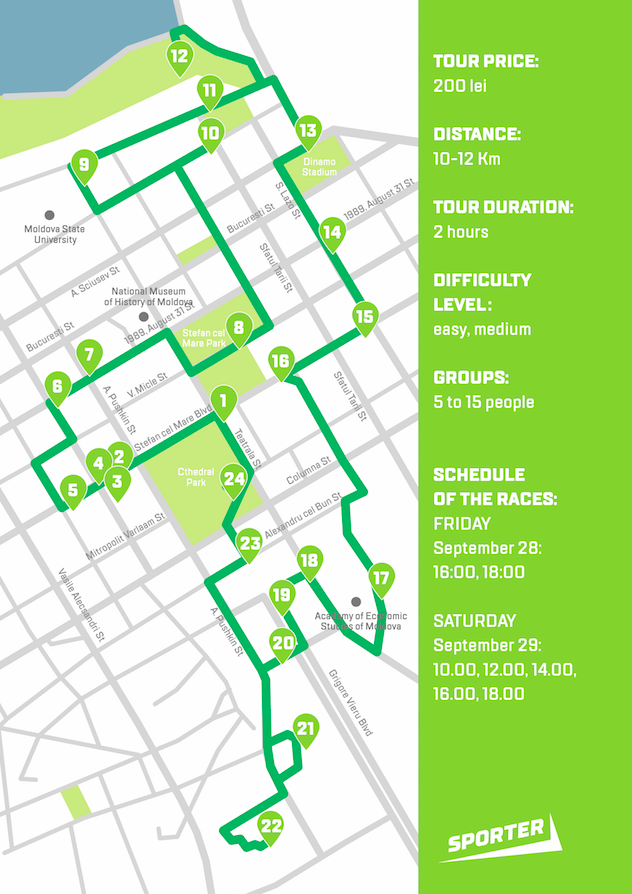 The excursion route is laid in such a way as to visit all the important places for the historical Chisinau: the house of Carol Schmidt, the mansions of Krupensky and Catargi families, Pushkin hill and the legendary Red Mill. The distance to overcome with the guide: 10-12 km. In two hours, you will plunge into the glorious past of our capital and forever come to love this amazing city.
Excursions are conducted in Russian, Romanian and English. The group can include from 5 to 15 people. The cost of the excursion is 200 MDL.
To go around the city in the company of a professional tour-guide, you must fill out the google form. In addition, on September 28 and 29, in the Great National Assembly Square, an Azbuca Travel employee will be waiting for you in the registration tent to share the details and suggest the first available excursions.
On top of that, come September 30 to the central square and support those who will take part in the Chisinau International Marathon!